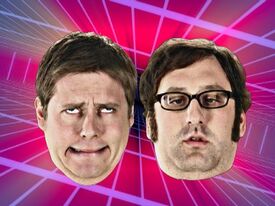 Tim & Eric
are the comedic duo of
Tim Heidecker
and
Eric Wareheim
. The two first met while going to film school at Temple University. The two would go on to create a website
timanderic.com
where they would upload videos to and get recognition for their work. The two also submitted videos to
Channel101.com
where they would get recognition for their video
Tom Goes to the Mayor
. After Bob Odenkirk had seen this video he gave the two a chance to make a second video entitled
Tom Goes to the Mayor Returns
guest starring
David Cross
. These two videos were then shown to
Cartoon Network
in which the show was greenlighted for a series on its
Adult Swim
lineup. This show would go on for two seasons with 30 episodes. After Tom, the duo went on to create their next
Adult Swim
series,
Tim and Eric Awesome Show, Great Job!
which midway through its first season was picked up for another 30 episodes spanning 3 more seasons. While the Awesome Show was in offseason the two created a streaming webshow for the website
SuperDeluxe.com
titled
Tim and Eric Nite Live!
which spanned 12 episodes from Arpil 2007 to February 2008. The duo also created an animated webshow for
Atom Film
titled
Stephen & Steven
. Currently the duo is working two series for Adult Swim, the first being a spinoff series to Awesome Show featuring
Dr. Steve Brule
called
Check it Out! with Dr. Steve Brule
and the other a gameshow starring
Neil Hamburger
called
Neil Hamburger's Big Ball
, both aired in 2009. In 2010,
Tim and Eric Awesome Show, Great Job!
was renewed one more season for Season Cinco, which ended with a twenty minute long episode, shown as a prelude to the feature length
Chrimbus Special
, which aired six months later on December 5, 2010.
In mid 2011, Tim and Eric announced their overseas tour: Tim & Eric Awesome Show, Great Job, Just Islands, 2011, in which the duo (along with DJ Douggpound) performed in Ireland and Great Britain during July, 2011.
Currently in production is Tim & Eric's second feature-length filmed titled Tim & Eric's Billion Dollar Movie. The release date has yet to be announced.