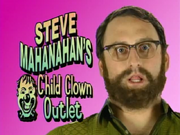 Steve Mahanahan
is one of the earliest recurring characters in the T&E universe. First appearing in
TIMANDERIC.COM "The Show"
, Steve introduces the his hotel located in
Reading, PA
. The hotel features a pool, arcade and a pay-per-view movie service. Steve then introduces tonight's film
Gatorman Attacks
.
On Season 1 of Tim & Eric Awesome Show, Great Job! Steve Mahanahan is the owner of Steve Mahanahan's Child Clown Outlet. He appears twice in the episode Salame; first, in his own commercial, and later endorsing Mike Mahanahan's Child Clown Shoe Outlet. Steve loves his brother.
In the Season 1 finale, Missing, Steve picks up runaway Casey and also reveals to have Casey's pep pep in the back of his van. In the follow up during the Season 2 premiere, Vacation, the van explodes without warning.
Despite their apparent deaths, both Casey and Steve Mahanahan reappear in the series. Steve makes his return in Season 3 as revealed in footage at Tim & Eric Awesome Tour 2008. He shows a video on how to care for your child clowns.
He also appears in the Season Cinco episode Stuntmen, where he reveals he "Touched a clown" and is now "Going to jaaaaiiiil." His Father is revealed to be Donald Mahanahan (Will Ferrell) and his brother Mike Mahanahan was shot in the face with a shotgun.