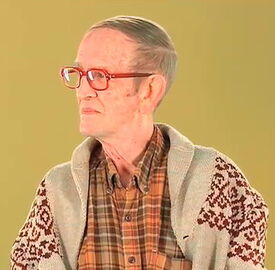 Richard Dunn
is a recurring actor on the
Tim and Eric Awesome Show, Great Job!
, and can be seen on nearly every episode since the series premier
Dads
.
He claims to be Tim's dad, but Eric knows this is not true. Rich is next seen working with other old men for Tim & Eric in the Abstinence. He also seems to be Casey Tatum's pep pep, though the term here most likely means 'grandfather.'
The Season 3 episode Muscles For Bones was a Channel 5 special to for Richard, hosted by Tim & Eric, for bones that Dunn needs.
Richard Dunn has also hosted many shows on tv in the series such as "DUNNGEON" and "Shot Dunn".
Dunn also appears on Tim & Eric Nite Live.
On June 4, 2010, Tim announced on Twitter that Dunn had passed away.
Trivia
Richard Dunn is not to be confused with the boxer of the same name.
At the time of his death he was dating fellow cast member Tanese Grey, who was a guest on "Shot Dunn."