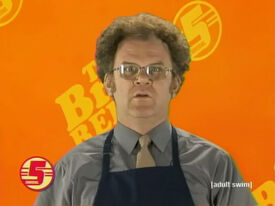 "For Your Health!"
Dr. Steve Brule is a recurring character on Tim and Eric Awesome Show, Great Job!, played by John C. Reilly.
He works for Channel 5 as a news correspondent to Jan & Wayne Skylar. He does special reports on subjects like cars, fashion, and video games. He also gives advice in the form of "Brule's Rules". He also does commercials for The Griddleman and has done a series of videos called "Steve Brule's Last Resort Fighting" in which he shows his techniques for fighting. He is the secret object of the married Jan Skyler's affections and desires.
Brule's Rules
Do you know what you're supposed to do if you catch on fire? Stop, drop and roll.
If you're raking the leaves and it gets all over your driveway, just hose it off dummy.
Does your milk taste sour when you take a sip of it? Just check the expiration date dummy.
Do you have smelly body parts? Smelly under your arms? In the armpits? Just put some vinegar on it. Why didn't you think of that?
What the heck are you gonna do if you're on a picnic and have an ice cream and then the ants crawl on the ice cream, what are you gonna do? You're gonna eat the ants because it's made out of protein.
I know it's prom times coming up, and if you're a senior in high school you're thinking "What the heck am I gonna do for a date?" Take your sister, dum-dum, she's a girl.
Ever wonder why ice cubes taste so boring? It's because you're making them out of stupid water, you bimbo. Put some fruit juice in there, and freeze it into ice cubes, and put THAT in your milk!
Hey, ever had a big problem taking care of your eggs and keeping them from getting squashed or spoiled? Keep em outside, except if it's hot out, then you are out of luck pal.