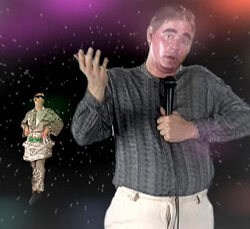 Casey and his brother is a musical group consisting of brothers Casey Tatum and Casey's Brother (no name is given) who featured on "Uncles Muscles Hour" hosted by Uncle Muscles. They first appeared on commercials and promos for Tim & Eric's first show, Tom Goes to the Mayor singing "There's a right way to Rock", "I don't want to go to school", and "Big Spider".
They appear throughout season 1 of Tim & Eric Awesome Show, Great Job! in which they appear singing such songs as "Time Travel" and "Cops and Robbers". On the episode Hamburger Casey and his brother appear on the Uncle Muscles Grand Championship singing "Chop Suey", but lose to Michael Q. Schmidt and his dance that he invented "Raise my Roof". on the episode Missing Casey disappears looking for his pep-pep. Casey's brother asks the viewers to help find his brother. Steve Mahanahan, owner of Mike Mahanahan's Child Clown Outlet, finds Casey and offers him a ride home. He then shows Casey his supposed pep-pep, Richard Dunn.
Uncle Muscles reveals in season 2 episode Vacation that Casey Tatum died in a fiery explosion along with Steve Mahanahan. Throughout season 2 Casey and his brother are shown on "Uncle Muscles Classics" singing such songs as "Hamburger & Hotdogs", "Horse and Buggy Ride", and "No More Sunsets". In the episode Innernette it is revealed that Casey's Moms name is Deborah Tatum and that she once had an affair with Pierre.
In season 3 episode Muscles for Bones Casey and his brother return to sing "(I want to live in a) Choo Choo Train". Since both Steve Mahanahan and Casey appear in season 3 this can only mean that they both had survived the explosion.
Casey and his brother are featured on Tim & Eric Awesome Record, Great Songs! as well as their own cassette tape with all their hits.